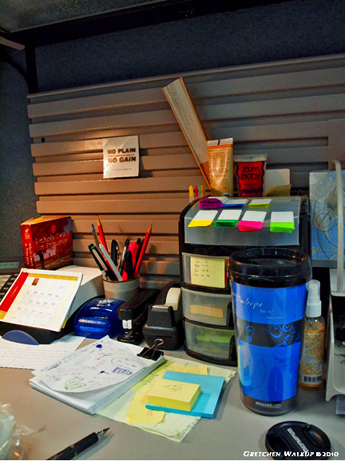 Alternative Agenda asks "What are we here for?" My response is "We won't know without more art." I look for answers through photographs and woodcut prints.
I'm fascinated by palimpsests—the ideas that surfaces have history; that they've been used previously, for different purposes, with different intentions; and that there are layers of meaning, unexpected, accidental, intentional.
I also want to reflect the beauty found in our everyday lives—at once mundane and profound, sacred and profane.
Louise Bourgeois, Magdalena Abakanowicz, Mark Rothko, Joseph Cornell, Vincent van Gogh, Paul Cézanne, Claude Monet, Georgia O'Keefe and Alfred Stieglitz, Frida Kahlo and Diego Rivera, Maude Lebowski, Miss Lissie, Eddie Vedder, Mary Oliver, Juzo Itami, libraries and museums, collections and catalogues, gardens, slow food, fuzzy edges, found objects, the reduce–re-use–recycle triangle, upcycling, ukuleles and accordions, the ocean, books, cinematography, hanga, shibui, honeybees, and cats all inspire me.
I live and work in Baltimore, Maryland.
Email me at Gretchen dot Walkup at AlternativeAgenda dot org.